Get ready for an evening of inspirational adventure films coming at you from the wildest corners of the globe!
In this selection of extraordinary short films, follow the world's top explorers and action film-makers as they brave intrepid journeys into the most spectacular regions of planet Earth.
Witness breath-taking cinematography, stunning scenery and an exhilarating dose of adrenaline – all on the big screen! These brand-new films are taken from the world's most prestigious mountain festival, held every year in Canada.
Visit www.banff-uk.com for more details.
Image: Valentine Fabre, Dent du Géant © Ben Tibbetts
---
Skier vs Drone
It's a classic battle of man vs machine. Olympic bronze medallist Victor Muffat-Jeandet takes on drone pilot Jordan Temkin on the slopes of Snowbird in Utah.
Filmmaker: Mike Douglas
Duration: 4 minutes
---
How to Run 100 Miles
Jayson Sime had a tough start to life: he grew up facing poverty, homelessness, dyslexia and bullying. But he learned to fight. In 2017, he entered his first 100-mile mountain ultramarathon (including a daunting 6,000m of ascent), betting on his life-long resilience to carry him to the finish line of Colorado's epic Run Rabbit Run. A film of pain, suffering, persistence – and glory.
Filmmaker: Brendan Leonard
Duration: 27 minutes
---
ViaCruxis
Marcel and Andrezj are legendary mountaineers. They have been the first to conquer the highest and hardest peaks. To reach the summit of a daunting unclimbed peak they will have to overcome formidable obstacles, suffer hardships and endure each other's company for a very long time. But how will they cope when Andrezj is no longer willing to continue in Marcel's shadow?
Filmmaker: Ignasi López Fàbregas
Duration: 11 minutes
---
This Mountain Life
Martina and her 60-year-old mum Tania embark on an epic ski traverse from Vancouver to Alaska – six months and 2,300km of journeying though relentless mountain wilderness. This Mountain Life is a multi-award-winning film and a riveting portrait of the human passion for adventure, set high in the peaks of British Columbia, Canada.
Filmmaker: Grand Baldwin, Jen Rustemeyer
Duration: 38 minutes
---
Far Out: Kai Jones
Kai Jones may be only 11, but in the mountains age doesn't matter. This next level kid is following in his family's ski tracks… right into backflips and tricks off cliffs. Watch in awe as one of the world's next great skiers in the making, takes on the mountain.
Filmmaker: Teton Gravity Research
Duration: 5 minutes
---
Ice and Palms
'Unorthodox' is the word used to describe German friends Max and Jochen's many adventures, and their latest expedition – five weeks, 1,800km and 35,000km vertical metres self-propelled across the Alps – is no different. Starting in Germany and finishing at the Mediterranean, Ice and Palms tells of a raucous bikepacking journey, summiting mountains and skiing iconic lines along the way.
Filmmaker: Jochen Mesle, Max Kroneck
Duration: 25 minutes
---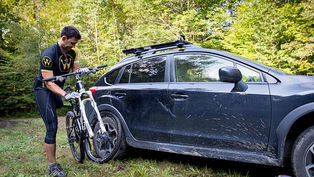 Ascend
As a young adult Jon Wilson lost his leg to cancer, but he hasn't let that stop him sinking his teeth back into life and shredding gnarly mountain bike trails. In Ascend, he shares his motivation for continuing to ride, even though the odds are stacked against him.
Filmmaker: Simon Perkins, Sharptail Media
Duration: 6 minutes
---