More stand-up from some new and not-so-new faces on the comedy club circuit.
---
Join our headliner tonight, double act The Halls of Ridiculous, as they push the boundaries of improvisation, sketch and character to the max with their quick-thinking scenes and quirky approach. Featuring performers Chris Lumb and Phil Allan-Smith.
★★★★★ - Ed Fringe Review
---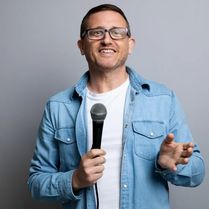 Lively stand-up Jimmy Shirley brings true tales of growing up on Merseyside, the absurdity of being a Scouser in Greece, and little everyday things that really annoy him.
---
Our opener Peter Edge has been doing stand-up comedy for five years after much after-dinner speaking: he's gigged all over the country with his 'embattled Dad of daughters' experience and performed at the Edinburgh Fringe and won the 'Funhouse Champions' award in 2022.
---
Our compere Mike Carter began performing in 2015 and has been a fixture on the North West circuit and beyond: combining classic Scouse wit with contemporary observations of post-university life, pop culture and being fat.

"What's not to like?" - Radio Manchester