From the Story by Hans Christian Andersen and Other Storytellers.
Emma Rice's 'exquisite' (Daily Telegraph) production comes to Buxton Opera House following its critically acclaimed premiere at Shakespeare's Globe.
As our destitute heroine struggles to survive, she strikes her matches to keep warm. Each match will conjure a new story, a new vision, and we will hold her hand as we tumble down the rabbit hole together. Inspired by the beautiful and devastatingly sad Hans Christian Andersen tale, The Little Match Girl, and combining Andersen's other tales, The Princess and the Pea, The Emperor's New Clothes and Thumbelina, The LittleMatchgirl (and Other Happier Tales) reveals a spellbinding world of magic and mystery. Steeped in the metaphor and meaning that runs through the veins of Andersen's enduring stories, this will be a night to delight, transport and surprise. For adults and brave children alike, expect music, puppetry, dark magic... and perhaps some modern truths that we would all rather remain hidden.
"An out-and-out triumph. Endlessly inventive, gloriously silly, poignant, topical, edifying."

WhatsOnStage
"Theatre to snuggle down into on a frosty night."

The Guardian
"A sparkling, magical show that will entrance the child within every theatre-goer."

Chichester Observer
Gallery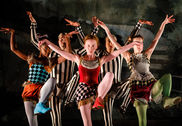 This play is joyous but it contains some sad scenes and a short moment of violence. Please contact the box office for more details.
Show Content Haze, herbal e-cigarettes, flashing lights and loud noises.