Welcome to Buxton Opera House, Pavilion Arts Centre and Buxton Cinema.
We know we're not perfect, but rest assured we will do our best to make sure you have a great time when you visit us.
If you would like to come and see us before your visit or would like more information, feel free to call on: 01298 72190.
---
Accessible performances and screenings
| | |
| --- | --- |
| Subtitled screenings | Displays the film dialogue and other significant sounds on the screen for Deaf or hard of hearing audiences. |
| Relaxed performance/screening | Welcomes audience members who may benefit from a more relaxed environment – with lower volume, raised house lights and chill-out area. |
| Signed performances | Using a British Sign Language (BSL) interpreter who interprets the shows for Deaf audiences (to discuss the best seating options for signed performances please contact Box Office) |
| Dementia-friendly | For customers living with memory challenges, their family and friends. |
| Silver Screening | For anyone over 60, with tea and biscuits before the screening |
| Family Screening | Slightly older films rather than new releases, for families of all ages |
| Captioned performances | Converts live spoken word into text that appears on a screen (to discuss the best seating options for captioned performances please contact Box Office) |
| Audio Described | Offers live or pre-recorded narration through headphones for visually impaired audiences. |
| Touch Tours | Combined with audio description, allows for visually impaired audiences to familiarise themselves with the set and costumes from the production. |
---
For guests with physical impairments
Buxton Opera House
The Opera House is a beautiful Edwardian building that is only partially accessible to wheelchair users. Unfortunately we do not have a lift. The wheelchair entrance is 72cms at its narrowest point. We have three wheelchair spaces in the Stalls area on the ground floor and an accessible toilet. The Stalls bar is not accessible by wheelchair, but one of our lovely volunteers will be happy to bring refreshments to your seat.
The Opera House Foyer and Box Office counter are not accessible by wheelchair, but there is wheelchair access to the side Box Office door (on Water St), with an intercom system to alert staff. The Dress Circle and Upper Circle levels are not wheelchair accessible and can only be reached by climbing the stairs. The building is not accessible by motorised scooter.
Pavilion Arts Centre/Buxton Cinema
There are two wheelchairs spaces at the front of the bleachers on the ground floor of the Pavilion Arts Centre/Buxton Cinema.
There is an accessible Changing Places toilet in the Pavilion Gardens. It can be accessed via a Radar Key purchased at the Buxton Visitor Centre in The Pump Room. Find out more here.
Buxton Opera House Access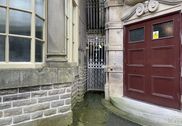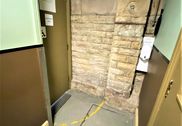 Pavilion Arts Centre Access
---
For guests with visual impairments
Assistance Dogs
Assistance dogs are welcome in all areas of the building. Please talk to the box office about any special requirements when booking.
If you would like our brochure in large print, please contact the marketing department on: 01298 72050 or email: [email protected]
---
For guests with hearing impairments
We have passive infra-red (PIR) systems in both the Opera House & Pavilion Arts Centre/Buxton Cinema for people with hearing impairments. This works through a special headset rather than your hearing aid and is available from the theatre. Please reserve one when you book your tickets (a £10 cash deposit on the night is required). There is also an induction loop system at both Box Offices.
We sometimes offer BSL Interpreted performances for productions including our annual pantomime. Please check individual listings and let box office know where you would prefer to sit, directly in front of the interpreter or on the opposite side, looking across the stage.
We offer regular screenings with Subtitles at Buxton Cinema.
---
For neurodiverse guests
Relaxed performances
Going to the theatre should be an exciting experience, but for people with autism spectrum conditions, learning disabilities or sensory conditions the shouts, bangs, flashes and strong lighting can be alarming.
We want to make a trip to the theatre possible, so every year we offer a relaxed performance of the pantomime and other events when we can. To make the performance more comfortable we adapt the script, sound, lighting and length of the performance and provide a quiet space where you can relax and unwind if anyone needs a few moments away from the action.
We also produce a visual story to help prepare for your theatre trip, which will be available on the relaxed performance event page of our website nearer the time.
Please book online or call our Box Office on 01298 72190.
Relaxed Screenings at Buxton Cinema
We offer relaxed screenings of films at Buxton Cinema when we can. To make the experience more comfortable the house lights are left up and the volume is lowered. We increase the signage and set up a chill-out area in the foyer, this area is screened off slightly to separate it from the rest of the foyer and is accessed through a different door from the auditorium. Thanks to the Friends of Buxton Opera House we have purchased a sensory tent and light which is set up in the chill-out area along with beanbags, foam mat, table, books and colouring sheets.
We also have some booster cushions available on a first-come-first served basis, or you can bring your own. You are welcome to move around as you wish and bring your own snacks if you prefer.
To help you prepare for your visit to Buxton Cinema we have a visual story available to download.
Tickets for relaxed screenings are now available to purchase online, but if you need a free essential companion ticket as part of your booking please call the Box Office on 01298 72190.
"The relaxed performance was a social lifeline for a family with a child with a diagnosis of autism. It enabled us to go to our first theatre as a family with no worries, anxiety or pressure and it gave my son an experience he would otherwise have missed. So thank you. A huge amount of thought had gone into every aspect of the relaxed performance and it was a delight to spend the evening feeling understood."

Audience member
---
Accessible Parking
There are 2 disabled parking spaces outside Buxton Opera House on The Square (Water Street) but it is possible to offload adjacent to the forecourt.
There are 8 disabled car parking bays on the lower level of the Pavilion Gardens car park off Burlington Road. This is approximately 320 metres away from Buxton Opera House and 160 metres away from the Pavilion Arts Centre/Buxton Cinema.
There are 4 at Sylvan Car Park at the end of Spring Gardens and 26 in the car park behind The Springs Shopping Centre.
There are 5 disabled parking spaces outside the Town Hall on the Market Place Car Park, 15 outside the Town Hall by The Slopes and 6 on the Cattle Market Car Park at the top of Market Street.
---
Essential Companions
In both venues your safety is paramount. In an emergency, if you would have difficulty making your way out of the building on your own, we strongly advise that you bring a companion.
If there are discounts available on a performance we can offer a free companion ticket to anyone in receipt of Carer's Allowance or anyone accompanying an Access Card holder with the +1 symbol. Other essential companions and Derbyshire County Council Carers Emergency Card holders can still receive a 50% discount on full price tickets as long as there are discounts available on a performance. These companion tickets are only available if you are accompanying the person you are caring for and are subject to availability.
---
Access Card
We acknowledge the locally developed Access Card and actively work to reduce the barriers faced by our disabled customers.
The Access Card translates your disability/impairment into symbols which highlight the barriers you face and the reasonable adjustments you might need. This tells providers quickly and discreetly about the support you need and gives you access to concessionary ticket prices and reasonable adjustments without having to explain personal information. Access Cards can be purchased for £15 for 3 years through: www.accesscard.org.uk
CEA Card
We also acknowledge the CEA Card at Buxton Cinema - a national card scheme developed for UK cinemas by the UK Cinema Association (UKCA).
The Card enables a disabled cinema guest to receive a complimentary ticket for someone to go with them when they visit a participating cinema. The Card is developed by UKCA's Disability Working Group, whose members include film exhibitors and distributors, and national disability charities such as RNID, RNIB, Dimensions and Whizz Kidz. The CEA Card can be purchased for £6 for a year through: www.ceacard.co.uk
---
We'd love your feedback!
Help us spread the word, please leave us a review on Euan's Guide.
If you have any problems during a performance please contact one of our Front of House team and we will do our best to help.
We will try to resolve your problem or answer your query straightaway, but if this is not possible we will either ask you to put your comments in writing or we will make a note of your details and comments to look into the issue over the next few days.
We value your feedback on our programme of events, customer service and the experience you had at Buxton Opera House and Pavilion Arts Centre - we'd love to hear from you!
If you write to Customer Service, please let us know if you are expecting a response. Some issues require further investigation and it may take a few days to get back to you.

Customer Service
Buxton Opera House
Water Street
Buxton
SK17 6XN
E-mail: [email protected]